There is no correct answer to the questions below:
iOS or Andriod?
iPad or Galaxy tablet?
iPhone X or Galaxy S9?
iPhone 8 or Google Pixel2?
iPhone 8 or Nokia 8?
iPhone X or Razer Phone?
The list could go on and on and on…
But, there is no right or wrong answer. Mostly it is down to personal preference, what we know and love.
When choosing devices for your team what best than to stick with what they know and love. That way everyone is happy. A happy workforce = a productive workforce.
Increasing attention is turning to data protection and security with the 6-month countdown to GDPR underway. It is a good time to review the way your team use mobile devices. Apple and SOTI LTD have been working closely to ensure that Apple devices cover your data protection needs fully.
Important steps have been taken to secure devices and that doesn't mean the need to buy your team a brand new iPhoneX, just to get a good level of protection. Apple has ensured that the latest iOS (11) is available to 2013 iPhone 5 devices and above, meaning that your trusted and loved device will be secure from hacks and data breaches whilst being able to maintain the most up-to-date secure app versions.
Pair your iPhone or Apple device with SOTI Mobicontrol and you have the perfect marriage of protected data, mobile security and mobility. No more worries about lost or stolen devices with the ability to lock and locate it!
Perhaps the greatest thing of all, no more expensing those apps you need for work! Apple Volume Purchase Program allows you to bulk buy from the App Store. Using Mobicontrol, you can send them out to your team as and when you need. A great way to know everyone is up to date.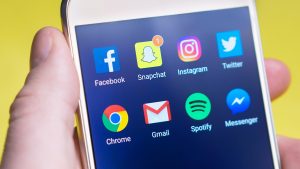 There is so much more that Apple devices can achieve when paired with SOTI Mobicontrol. You're here because you love your Apple device and that is great! We want to make sure that your devices, new or old are safe and secure, so that you won't need to divorce the device once GDPR has kicked in!